I know I promised a post on my finished family room but I haven't gotten my before pictures ( I never found my pictures so my mother-in -law is emailing me some of hers). I promise You will get to see it as soon as I get the pictures!
BUT ...........
I have something just as exciting.... Well almost.. I am pretty excited about my new family room.
Remember the 2 dining chairs I got from Goodwill.....
Here are the steps I took to give them a much needed update:
Unscrewed the seat and back cushions from the chair and sent them off to Susan for her upholstery magic.

Lightly sanded the wood so that my paint would have something to adhere to.
Painted chairs with a Sherwin Williams latex primer. ( didn't take a picture of that sorry) and allowed that to dry... I know you think I am going to say overnight like I should .....but..... I am much to impatient for that. As soon as it is dry to touch I move on to the next step. I would never get anything painted if a strictly followed the directions. Everything is wait 24 hours in the written rules of painting.
So where was I...
As soon as they felt dry, I did a very light sanding just to make sure it was smooth to touch and then painted them with a high gloss Sherwin Williams black paint.
Love the little details of this piece. Having these little details really allows for a mixture of old and new.
Then all I had to do was wait for the seats and backs to be done...........................
Actually it didn't take long at all. So here are the finished products:
I really love how these turned out. Can you believe these chairs came from Goodwill. The fabric used on these chairs is a Greenhouse fabric which retails for $60/yd. The black geometric design is actually a black velvet. Unbelievably Pretty!!! I will be selling both Greenhouse Fabric and Duralee Fabrics from my
studio space on Main Street in Reisterstown
, so call and make an appointment to look at fabric or just stop on by ( by the way, I made a mistake on store hours. They are Wed -Sat 10-5 and Sunday 12-5). I have tons and tons of sample fabric books for you to browse to find that perfect fabric. You will find my prices to be below retail price.
These chairs will be for sale at my studio
SHM Designs
on Main Street
when I open in February. Their cost will be $250 per chair. These would be great flanking a buffet in a dining room or a table in a foyer. They would also be magnificent in front of a desk in an office. Really anywhere you want to make a statement.
I found some comparable chairs to compare prices:

Ballard Design $481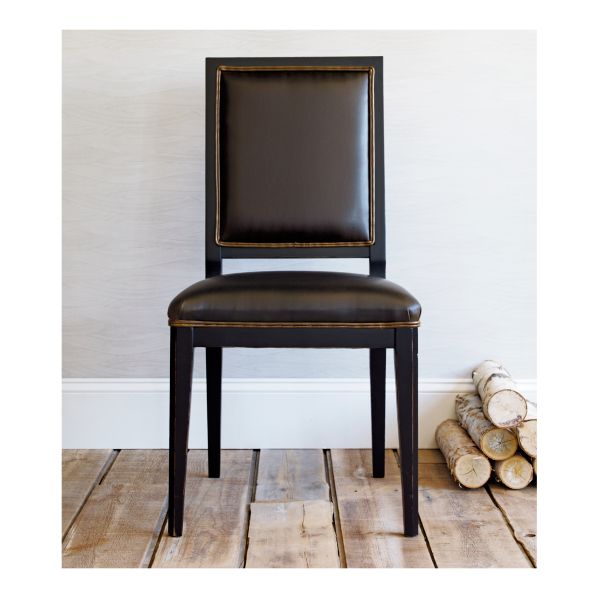 Crate and Barrel $349
Sneak peek at two more pieces I gave some TLC to:
Can't wait to share their reveal!
Take Care,
Stacy